Your Guide to We Inspire Futures
With your help, we can build the best online community for educators all across Canada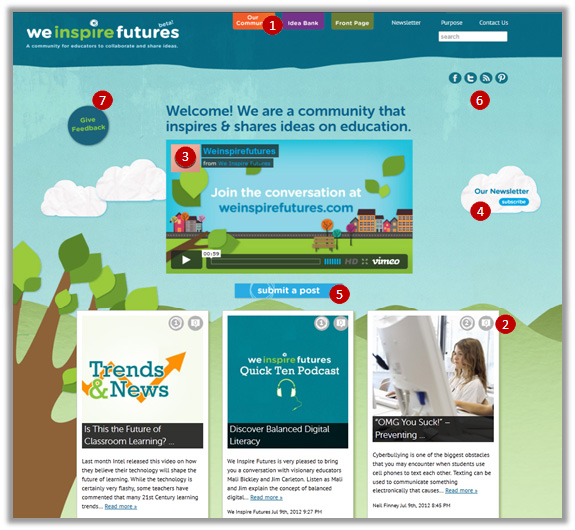 We Inspire Futures is organized into three categories: Our Community, Idea Bank and Front page.

 Browse the homepage to see our most recently posted articles from all categories and click on them to read more.

 Watch this video to see what We Inspire Futures is all about!

 Sign up to our newsletter to get a rundown of all the articles posted in a particular week. You'll also be informed of any contests or promotions, see our featured bloggers, featured posts, anything else that inspires us that week!

 You can contribute to our community and share your wisdom with fellow educators. To learn how to submit a post watch this video.
 Connect with us on our social media channels! Find us on Facebook, Twitter, or Pinterest.

 Tell us what you think! Click here to give your feedback on the site and tell us what you like, didn't like and how we can improve.
What is Our Community?
A place to share personal stories and experiences, where you can find interviews and podcasts, participate in discussions, ask questions, and connect and share ideas with peers.
What is Idea Bank?
A place to find lesson ideas, activities to do in the classroom, tools and techniques, tips and tricks, templates and tutorials for teachers. The idea bank is searchable by grade or discipline so that you can find all the resources that are relevant to you.

What is Front Page?
You can find any current or trending topics and developments in education here to keep you current and informed.  We feature the latest in education news and digital trends, from research studies to white papers and infographics.
Additional Good to Knows
 Featured Articles
Our featured articles are shown at the top of each category. Here we post the most recent, most inspired, and most visited article.

Inspire Others
The "I'm Inspired" button is similar to the "like" button on Facebook. You can click on it whenever you like or feel inspired by an article you've read.

Navigation 
On the side bar of every page, you will see a list of recent stories posted for all categories.  Click on any of the tags in the tag cloud to find articles relating to that tag.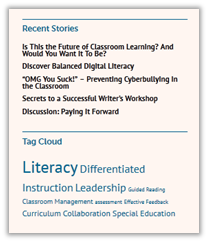 Did you find this guide helpful? 
Thank you for being a beta tester for We Inspire Futures.
With your help, we can build the best online community possible for educators all across Canada!